For this quarters newsletter we interviewed Kris Hanchette. He is the newest member of the team, joining as the VP of Sales and Marketing. Kris comes to us with an impressive background in electronics and robotics. Kris worked at MultiCam for 22 years and has known Republic for 25 years.
Q. We are loving the videos. Tell us more about them.
A. Republic didn't have an effective social media presence. Social Media has become an important marketing tool and the younger generation is starving for social media. I'm working with Marketing and Sales to create a stronger social media presence. The videos are a great tool in helping us get our story out to customers. David Gradney is becoming a video star! Our Sales team has encouraged our customers to watch the videos, and the customer response has been great. The videos have led to more sales. Social media presence is a journey not a destination. We plan on creating more interactive videos and to continue to tell our story to customers. The goal is for customers to share our story with others in the field. We want everyone to know Republic Manufacturing as the experts!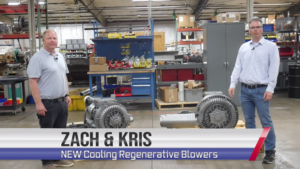 Q. What opportunities do you see for Republic?
A. Sheet metal has been our shining star during Covid-19. We want to continue to focus on sheet metal! We are focusing more on sophisticated electrical panel systems and rounding out our claw pump line. This month we have released the RBX-150! Republic has done a great job at retaining key talent! We have the right players in the right slots to be successful. We have a strong workforce that is capable of taking us to the next level. We are always developing new products and trying to stay relevant. We also use technology to our advantage.
Q. What are Republic's Strengths?
A. Republic is an expert in our field. We have the state-of-the-art equipment and technology. We also are a family organization, with diverse individuals! Anyone can come here and be themselves.When I came onboard, everyone was very welcoming and made me feel right at home. Zach (CEO) cares about the company and the employees! We are just like family. Sure, like any family we have our struggles, but we are working them out. I'm really impressed with Republic.
Q. What is Republic's Weakness?
A. Post Covid, we are living in a time of a forced down time. We can't predict what is going to happen with the economy, but we can be prepared for the challenges. It's the perfect time to start looking at long term goals. We are going to be stronger when we come out of this. We are taking this time to educate our sales team. We want the sales team to be hunters– striking up new customers, and new markets to increase revenues. We need to think bigger and be more strategic. I like to say, don't have to outrun the bear, just have to outrun the person you are with! We have to always be willing to change and grow. As a group, we can make incredible changes together and can learn to reinvent ourselves. We can't get to comfortable in this space. Look at Blockbuster. They weren't willing to use technology to reinvent themselves. Same with Polaroid Film. They didn't get behind the digital camera. We have to go after opportunities!
Be sure to check out Republic Manufacturing's Videos on YouTube, LinkedIn, Facebook, or Twitter.