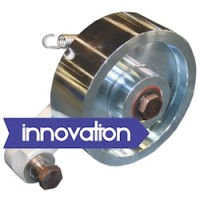 This year, improvements were made to the Republic Bushing. It is now thicker and nine times stronger, which directly affects the service life of the Republic Tension Pulley Assembly used in Republic Centrifugal Blowers.
Performance Improvements:
Thicker & 9 times stronger
Reduced vibration
Increased durability
Heat resistant up to 340 degrees
Corrosion resistant
Absorbs 14 times less moisture
Prolonged belt life
The new bushing is impervious to all common chemicals and environmental conditions, is more rigid, has tighter tolerances, and has a thicker wear surface than Republic's previous bushing. This bushing is used in Republic Centrifugal Blowers: RB800, RB1200, RB2000, and RB2400.
Replace the tension pulley assembly in any existing blower, already owned and operating in your facility.

Replacement tension pulley assemblies are available for sale here.  Existing customers can use coupon code: TWENTY15 to receive a 20% discount on the improved busing. This discount offer ends June 30, 2015.