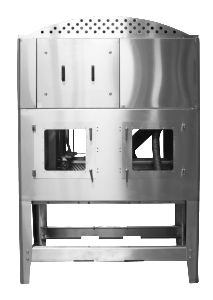 The Republic All-In-One Air Knife Enclosure provides the most comprehensive and complete drying system On the market. Moisture removal, specifically conveyor drying, is a huge component in operations for the bottling and canning industries. Republic did some market research and found that customers have three  very specific "pains" when dealing with their air drying systems: Noise, overspill, and the biggest pain of all, time lost in production due to change-over.
Enclosure Benefits: Water and Noise Containment
The enclosure component of our All-In-One product delivers overspray containment that essentially eliminates safety hazards and facility corrosion. With the water blow-off portion taking place on the inside of the enclosure, the water is contained and does not spread onto walking paths and other facility machinery.
The All-In-One Enclosure lowers db levels, and allows a conducive work environment. It can also give you peace of mind by helping to avoid hazardous noise levels for employees.
Air Knife Lateral Slides: Change Over Time Reduction
Picture this, you have several different products that need to be dried. Each time a different product runs down the conveyor line, you'd pause production to adjust your system's air knives. This is the only way to optimize drying for products with different widths and heights. This entails using a number of tools, such as a wrench, screwdriver, etc.
Second scenario: In other cases, when no tools are needed and air knives are "easily adjusted," they generally tend to shift during operations. What if this "easy adjustment" of your air knives occurs while your system is running? Constantly readjusting the shifted air knives takes even more time out of your production day and in some cases, may require you to run a product line down the conveyor a second time for a proper drying.
While engineering our  All-In-One Enclosure, we worked up a superior, easy-to-do method of adjusting air knives. Our innovative Air Knife Lateral Slides have a hand crank to adjust the height, width and angle of your air knives! View a video of how this works: Republic Air Knife Lateral Slides Reduce Change-Over Time.
Other Awesome Perks
The All-In-One Enclosure has easy accessibility with its several removable panels and is known to be a drop-in solution for many of our customers. Learn more about these perks: The Accessibility and Easy Setup of the All-In One Enclosure.
Is This Product Only Relevant to The Bottling and Canning Industries?
In general, Air Drying Systems are a necessary component in many different industries and are used to dry pans, crates, sheet metal, lab equipment and many more items. At this time, because the All-In-One Enclosure is limited by the standard width of the enclosure, it is used to dry anything that is equal to or less than 12″ wide, with height typically not being an issue.
The All-In-One Enclosure is set to be displayed at the 2015 Pack Expo Conference in Las Vegas, Nevada, this September. More info to come.
Written by Chloe Chavez