Optimize your Hold Down Application.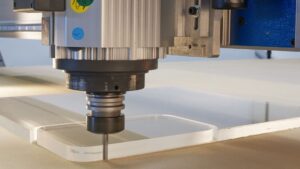 There isn't a one-size-fits-all solution when it comes to vacuum hold down for CNC machines.  The experts at Republic Manufacturing can help you select the right vacuum pump technology and size to optimize your hold down application.  Optimizing the vacuum will reduce material movement or vibration which directly results in longer tool life, better edge quality and faster production cycle times.  Vacuum hold down done correctly has an excellent return on investment.
Republic's Dry running pumps work particularly well in random shape cutting applications.  Claw and VRT vacuum pumps are used when higher pressure, lower flow is needed.  Positive Displacement pumps and HRC Regenerative blowers are commonly used because they offer medium pressure with higher flow.  Job shop work, sign making, nested based manufacturing and cabinet making are can be challenging when it comes to vacuum.  Having high flow and medium pressure helps overcome the changes of cutting small to large parts out of porous to non-porous materials.
Oil-lubricated pumps play an important role where parts are held firmly in fixtures.  This allows for maximum force to be applied to small part surfaces.  It is very common to find these pumps used in 3-axis, 5-axis and robotic cutting applications.  Plastics trimming, aerospace, architectural millwork and many other industries that require low flow and high vacuum pressure utilized oil lubricated pumps.
When it comes to cutting flexible materials, industrial fabrics, sewn products, digital finishing, and more, Republic offers the RB and RBX centrifugal line of blowers.  These are high flow low pressure systems that easily overcome the air loss though the material to maximize the part hold down when cutting. Republic HRC Regenerative Blower product line provides one of the most cost effective solutions requiring no maintenance. The HRC blowers are available as complete kits that come with pressure relief valves, filters and plumbing that are ready to attach to the cutting table.  We also offer optional pressure gauges and pre wired electrical starters making the systems ready to plug and play.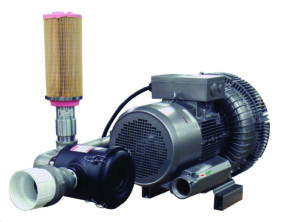 Republic's products are available to end users, OEM's, and distributors worldwide.  If you have a vacuum hold down application, we have a solution!